WINNING MACHINE
PTM4019 DPF Total will save your investment in a short period of time and will provide you with both profit and increased customer satisfaction.
ENVIRONMENTAL MACHINE
Environmental conservation awareness minimizes the use of electricity and water, as well as the recycling of particulate matter to the environment by filtering out the resulting particulate matter.
7/24 SUPPORT
In addition to machine installation and usage training on the spot after sales, we also provide 24/7 technical information support so that we are always behind our machine and our customers.
Some Of References
Tells the best users of PTM4019.
UNIQUE FEATURES
100% Results with PTM4019 and Nano Cleaning Fluid, 100% Guarantee.
TOUCH SCREEN
You can access all the details via the touch screen and easily manage operations.
MEASUREMENT PRINTING
You can document the cleaning process by printing a measurement receipt before and after particle cleaning.
NANOTECHNOLOGY
With nano-grade cleaning fluid you can clean particles under 1mm in diameter.
6 LANGUAGE VOICE
You can follow up all operations with voiceover in Turkish, English, German, French, Italian and Russian languages.
FINAL SOLUTION FOR DPF FAULTS
The PTM4019 is a machine that uses Nanotechnology, cleaning up DPF filters close to 100% b>.
PTM4019 Cleaning Liquid
With nano technology, it can be thawed in channels less than 1mm.
Minimum Electricity Use
As an average bulb, electricity is used in each particle filter cleaning process.
Minimum Water Use
Nearly 33 liters of water is used in each cleaning operation with the air pressure.
Minimum Air Pressure
You can even use a small 50Lt air compressor.
FULL AUTOMATIC USE
PTM 4019 DPF TOTAL To clean the Particle Filter, just press the START button..
CLEANING WITH ONE TOUCH
PTM4019 Works with touch screen. After connecting the Diesel Particulate Filter to be cleaned with the racket, all you have to do is press the START button. The machine will inform you by printing two separate receipts showing the amount of cleaning before and after the process, such as all remaining timing, water and air pressure, amount of liquid to be delivered to the filter, etc..

PICTURE GALLERY
PTM4019 DPF Total with outstanding features, 100% solution for DPF Particulate Filter.
FAIRS
With the exhibitions we participated, PTM4019 REACHES THE WORLDWIDE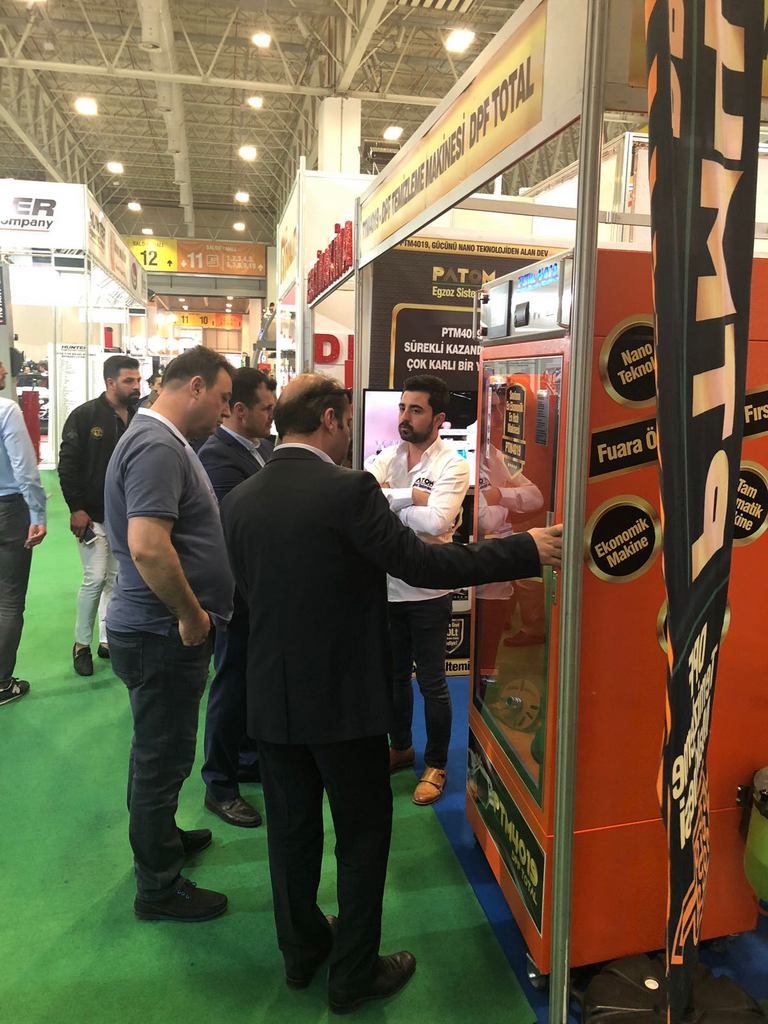 AUTOMECHANIKA
April 2018
AUTOMECHANIKA
September 2018
AUTOMECHANIKA
April 2019
ISTANBUL
AUTOMECHANIKA
April 2020 - Hall 14 / D155
Frequently Asked Questions
Interested in PTM4019 Particle Filter Cleaning Machine